Risk of Chronic Diseases
Major Chronic diseases in which lifestyle plays a role include
Chronic diseases (NCDs), such as heart disease, stroke, cancer, chronic respiratory disease, and diabetes, are the leading cause of death and disability worldwide.
Explore healthcapita
Evidence-based preventive care platform for managing Chronic Conditions
healthcapita's Digital Health & Well-being solutions are developed for addressing emerging global health challenge of Chronic Diseases
To enhance global health and economic security
Reduce premature NCD deaths and disabilities
Changing social, economic, and structural factors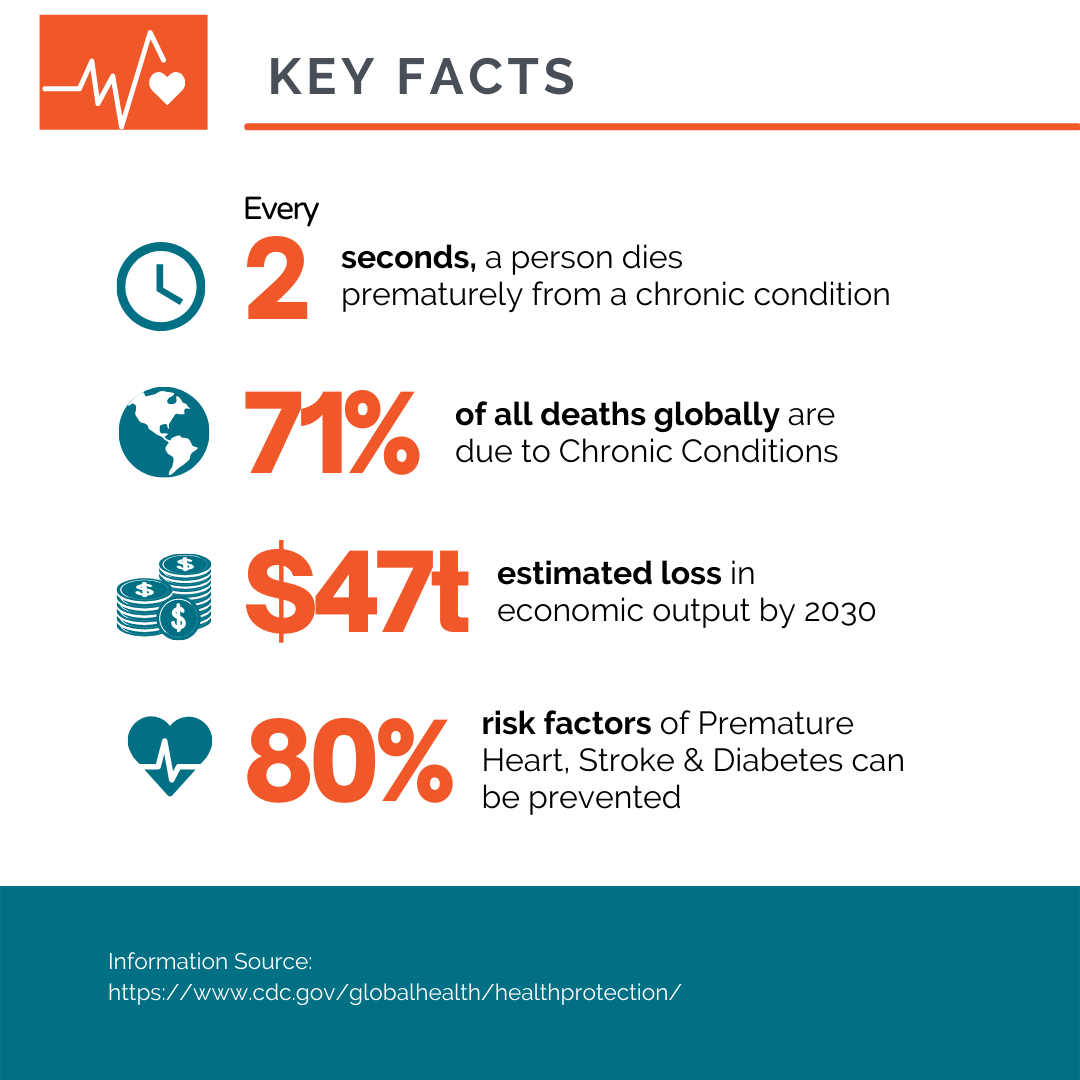 The spread of unhealthy lifestyles fuel the chronic disease crisis that kills 15 million people prematurely-before the age of 70-each year
High rates of chronic diseases cause poverty, inhibit economic development, and burden fragile health systems
healthcapita is a health and well-being digital Platform with an integrated approach to prevent & manage chronic conditions
Our personalized wellness programs focus on lifestyle modification & behavior change that help improve health & well-being.
healthcapita's evidence-based approach is built on establishing targeted interventions with customized well-being programs and partnerships.
To extend our reach and resources
To generate scientific evidence
Strengthen community
Improve monitoring and evaluation systems
Our activities are aligned with global targets including the UN Sustainable Development Goals
To reduce premature death from NCDs by one third through prevention and treatment and to promote mental health and well-being by 2030
Preventive Well-being Cycle
We analyze health risks from – Health Risk Assessment + Key Statistics from Health screenings & develop Evidence-based wellness program to mitigate identified health risks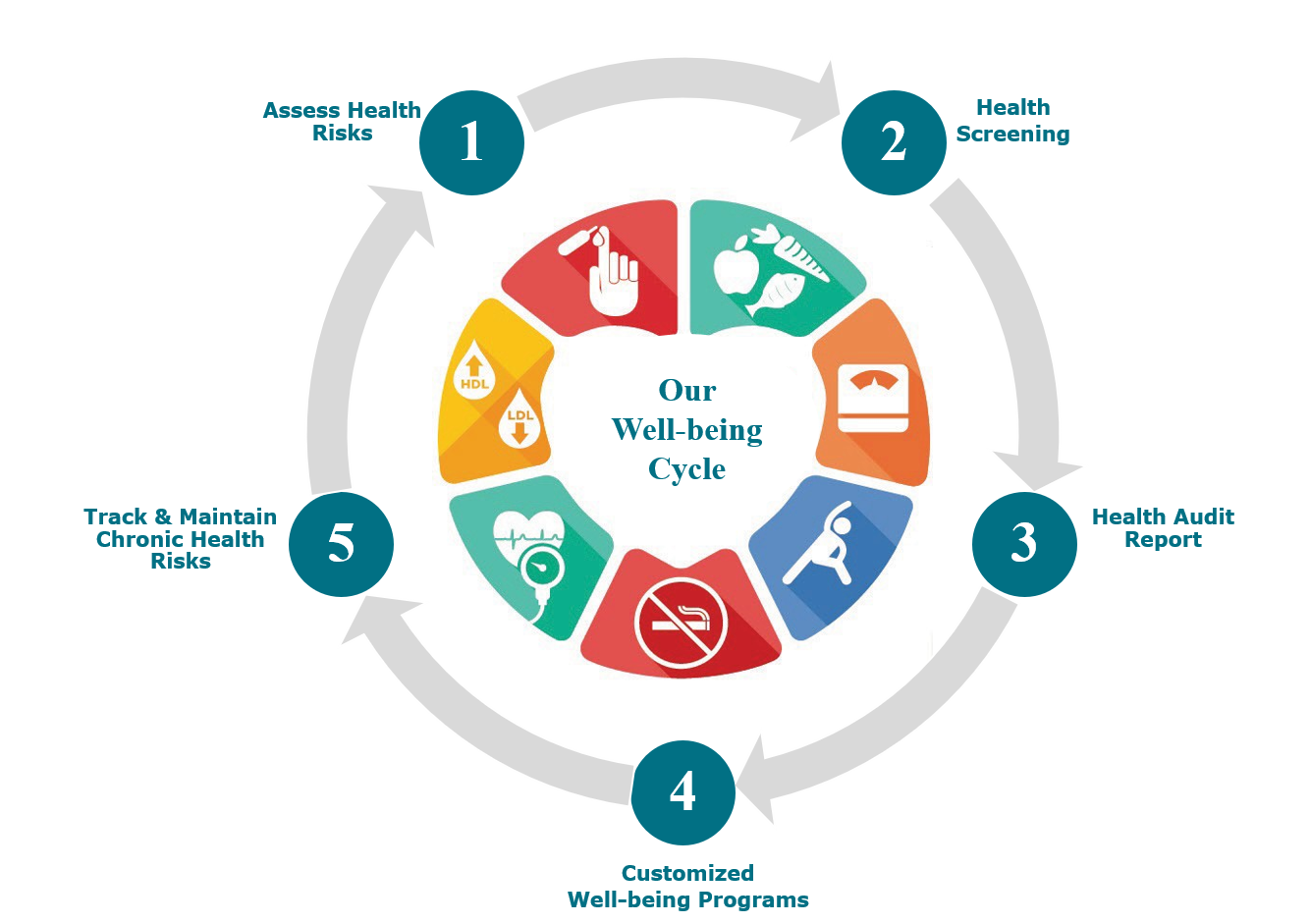 Chronic health conditions are more preventable and manageable than ever.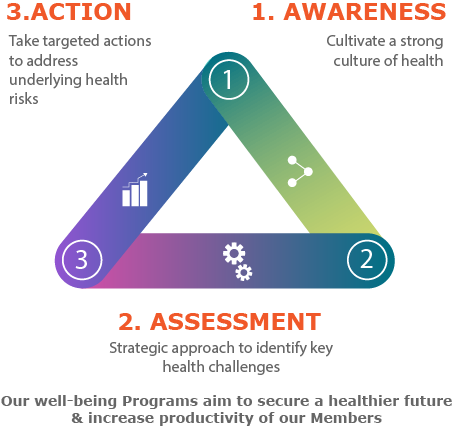 Chronic diseases risk factors – most are modifiable with lifestyle changes
Science behind Our Approach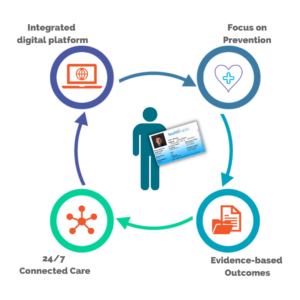 Generating Evidence
Produce scientific evidence on chronic condition, risk factors, and targeted interventions to develop effective programs and enable informed decision-making
Strengthening Community
Strengthen health infrastructure and empower members to address health needs and avoid health crises
Improving Surveillance
Improve chronic conditions' surveillance, monitoring, and evaluation systems to enable our members to set priorities and monitor success
We focus on prevention with an integrated approach to manage chronic health conditions
healthcapita's innovative, evidence-based interventions to prevent and control chronic conditions
We support members' with their journey to better health & well-being
A small step towards well-being programs now, can lead to positive health outcomes over time
HEALTH & WELL-BEING BENEFITS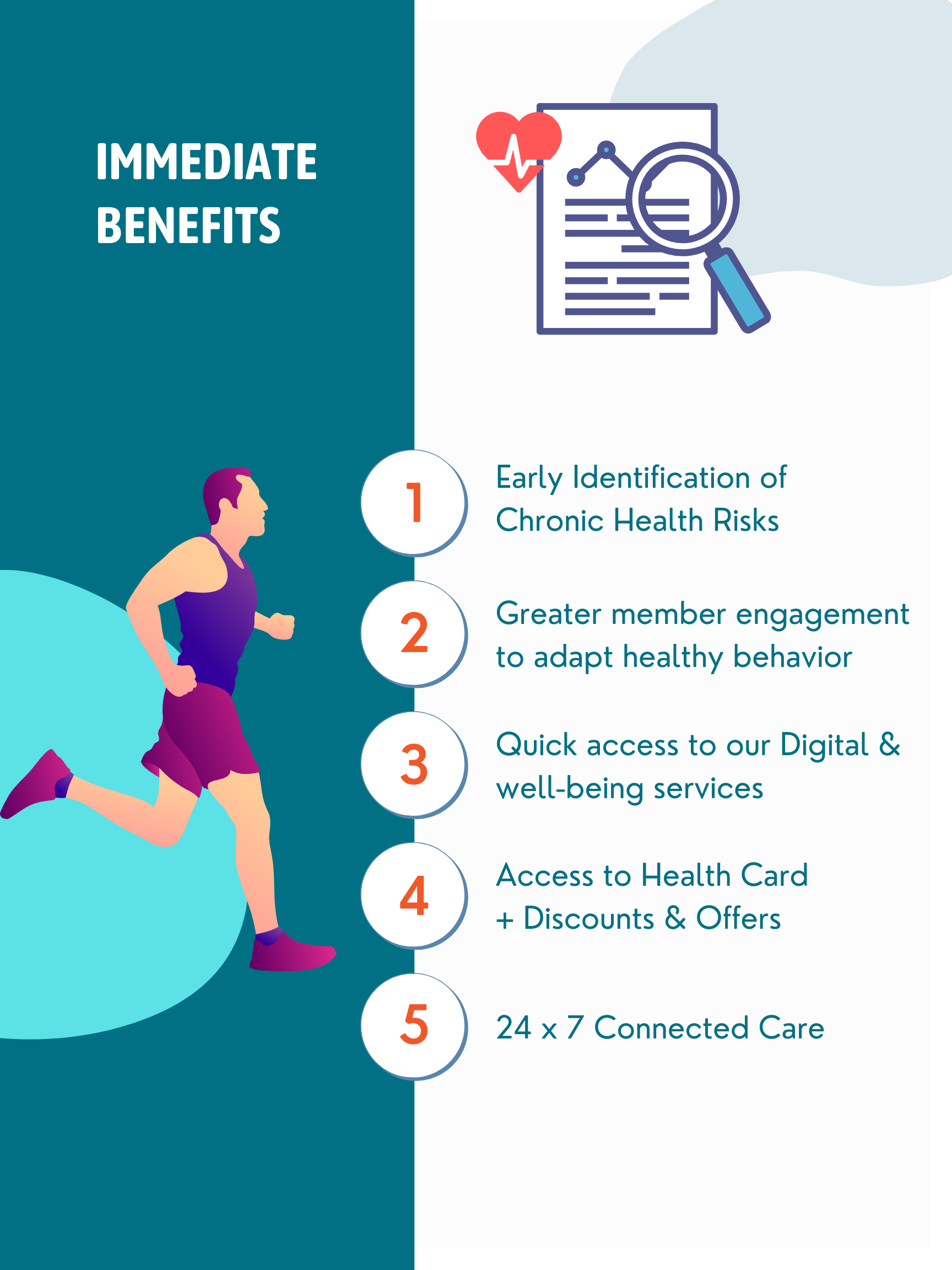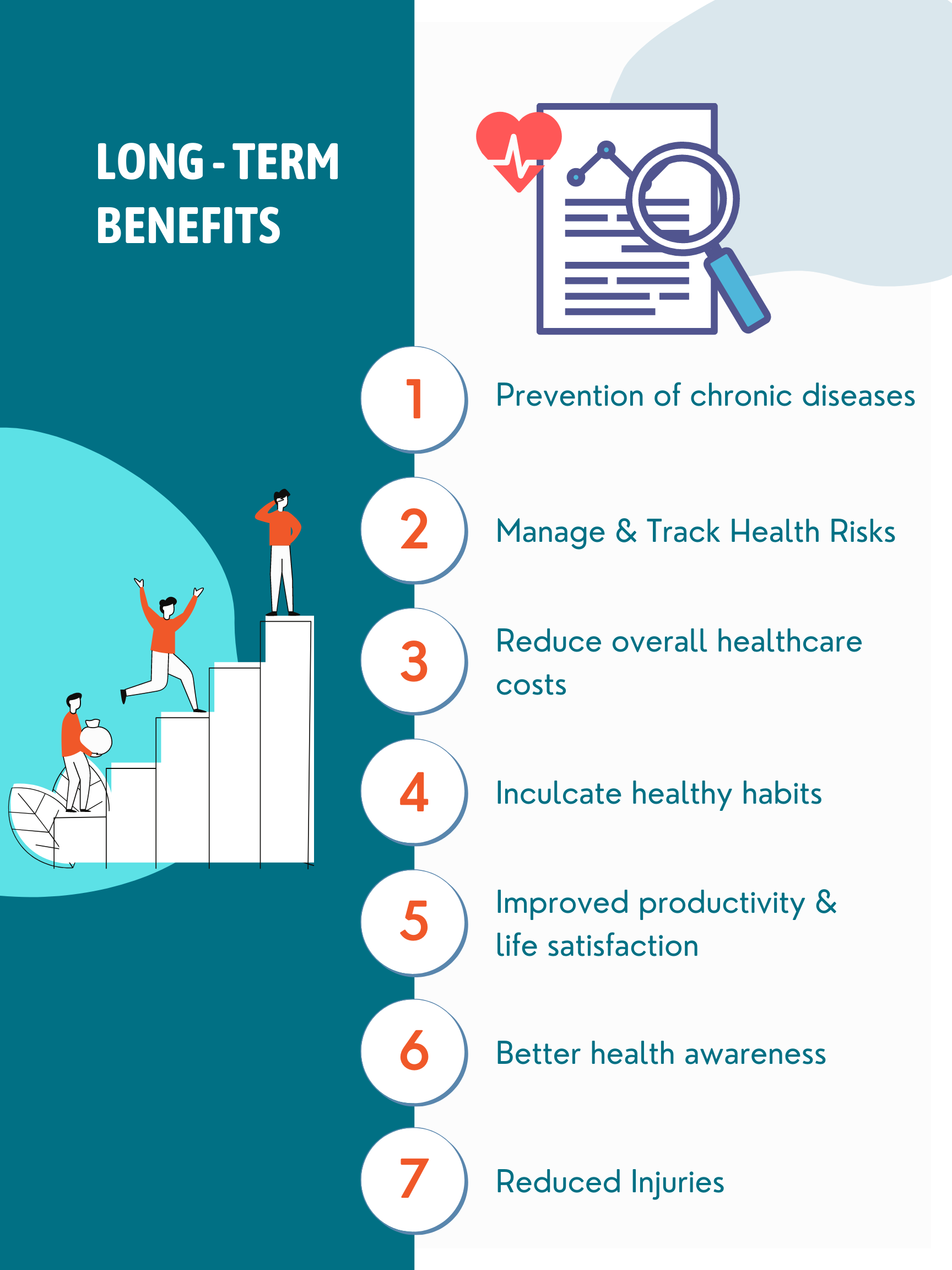 Closing the Gap:
Every $1 invested in Chronic Conditions interventions may generate at least $7 in increased economic development or reduced health care costs by 2030.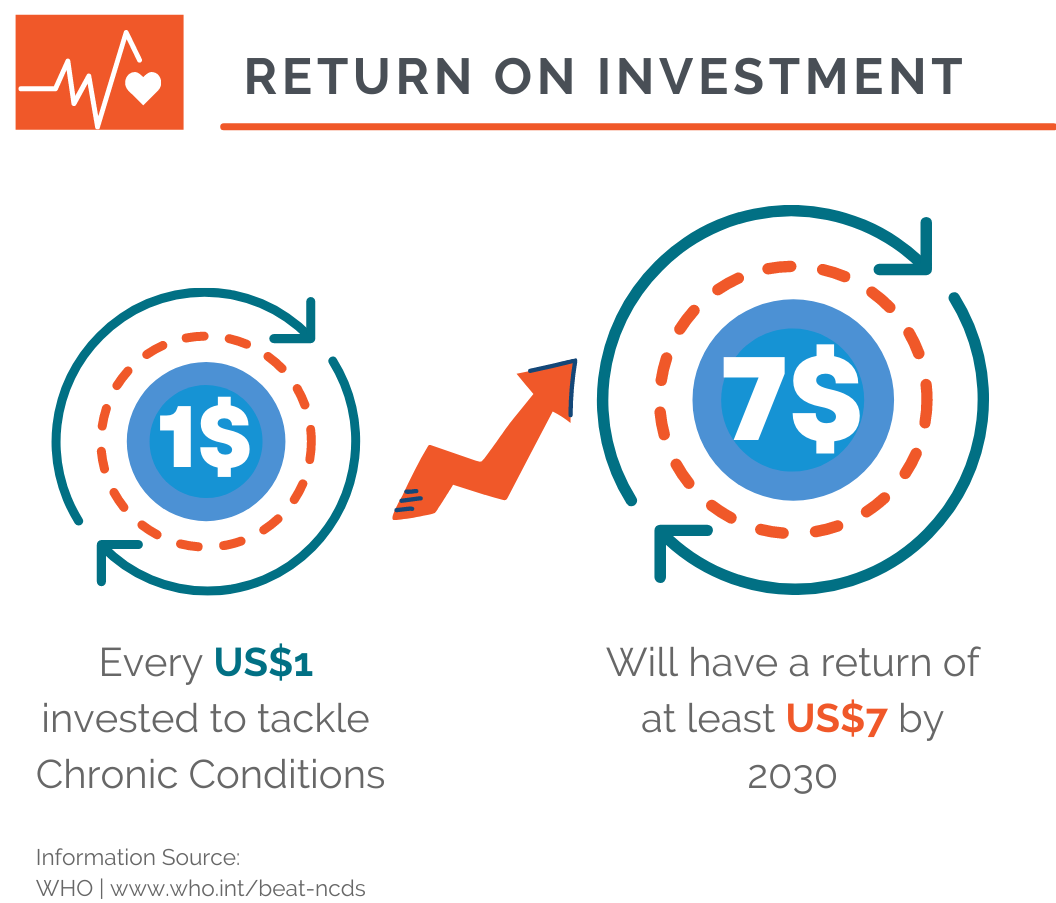 Investments in these areas enable countries to make sound policy decisions, enhance global economic and health security, and support progress towards the UN Sustainable Development Goals.
Countries with healthier populations are more stable and prosperous, more viable trading partners, and better able to avoid health crises and outbreaks
Source : https://www.cdc.gov/globalhealth/healthprotection/
Personalized Well-being Solutions
healthcapita's personalized well-being solutions are designed to evolve with your well-being journey
Reduce Cost, Improve Productivity
& Achieve Business Outcomes
Members with Improved Health & Well-being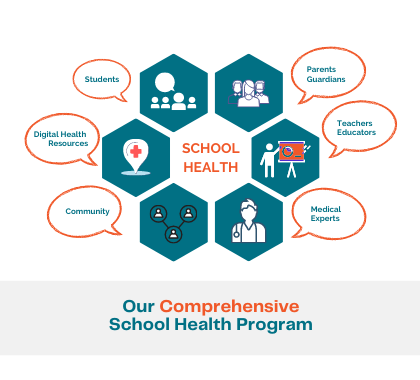 A CLOSER LOOK AT INFERTILITY
Infertility is a disorder of the reproductive system defined by the failure to achieve a…
DIABETES AND HEART AILMENTS: WHAT'S THE LINK BETWEEN THE TWO?
Did you know that there is a strong correlation between diabetes and heart diseases? Well,…
View All Posts
View All Posts
"Incredible to Work With!

The team is extremely knowledgeable and helpful. We would definitely consider offering more wellness programs through Healthcapita in the future! They are a great group of professionals to work with!"

Mr Vimal Murugan

Underwriter
"Knowledge & Passion for Helping Others

Healthcapita's Wellness Program worked seamlessly & they've had an amazingly positive impact on the quality of life!"

Dr Saba Farooqui

Healthcapita - User
"Innovative technology platform

An Innovative technology platform, that doesn't compete with anyone, but instead complements healthcare providers & seekers. I found it to be very useful, especially in times of medical emergencies. I congratulate the team for designing a good interface for both; medical professionals and patients alike."

Dr Iqbal Wardhawala

Medical Doctor
"Improve Health of Employees

It was a pleasure to have engaged Healthcapita's Wellness Program & I would highly recommend them to any company wanting to improve the health of their employees."

Dr Ayob Azizi

Medical Doctor